Urgent Call for Help! #ShareTheShore COVID-19 Update: Plovers and other vulnerable shorebirds have always practiced social distancing – from people and pets, that is. Unfortunately, our beaches are currently seeing increased foot traffic and off-leash animals. Due to current restrictions, stewardship and monitoring activities are slowed, limited, or on hold (depending on the site), so birds may nest in areas that haven't been posted or fenced by staff and volunteers.
Birds are easily scared off their nests and away from chicks by humans and dogs who get too close. WE NEED YOUR HELP MORE THAN EVER to spread the word to #ShareTheShore!
JULY 4 HOLIDAY WEEKEND UPDATE: Because they must find their own food along the ocean's edge, chicks leave the nest within a few hours of hatching. Around July 4, the entire beach serves as a nursery and kitchen for these flightless, fluffy, "cotton balls on sticks."
Over the holiday weekend, noisy activity, litter, and unleashed pets can be dangerous to our birds and their newly-hatched chicks, but you can help. See below for more messaging and graphics!

SHARE THE LOVE, #SHARETHESHORE
Depending on how "birdy" your feed is on social media, you may have come across the hashtag #ShareTheShore. Or maybe you've seen it touted on a sign at your local beach.
#ShareTheShore is Audubon's effort to protect nesting shorebirds like Piping Plovers and American Oystercatchers, and their teeny, tiny chicks.
It's our way of uniting our voices as scientists, bird-lovers, and beachgoers who are dedicated to reducing the threats posed to vulnerable beach-nesting birds.
Birds' survival depends on our actions, on the beach and off. If we want to enjoy their fun, fuzzy presence in the future, we have to educate our friends and family today.
MESSAGES TO SHARE
Great for photographers, educators, local community members, beach-based staff, beach-based businesses!
Fireworks can be fun, but also scary when you're just a few inches tall! If you're visiting the beach for the July 4 holiday, remember that tiny, flightless chicks may be present and need space to forage and develop. Share the love with these bird families: maintain your distance, obey pet leash laws, and carry out any trash. #ShareTheShore
Social distancing is a new concept for humans, but it's ALWAYS been important for nesting shorebirds! Tiny chicks and parents perceive people as predators, so frightening these birds threatens their survival. Share the Love, #ShareTheShore https://ny.audubon.org/conservation/protect-beach-nesting-birds

How do you know you've scared a nesting shorebird, seabird, or flock by getting too close? If they fly away. If they do weird things with their wings, making them look broken, t

o distract you away from their nest. If they poop on you. If they "call" (make an alarm sound).

These birds need space to thrive! Let 'em nest, let 'em rest. Share the Love, #ShareTheShore http://ny.audubon.org/bgepledge

Beach tips for bird lovers! Please walk close to the water on the lower beach, so travel-weary birds can rest on the upper beach. Usually signs or people will alert you to these areas, but due to the COVID-19 response, many normal posting and fencing efforts are delayed. Share the love, #ShareTheShore! More here: http://bit.ly/1WMTuf4


Beach nesting birds like Piping Plovers are easily scared off their nests and away from chicks by humans and dogs who get too close. Teeny, tiny chicks depend on their parents' constant presence to help regulate their body temperature and keep them safe! Please, now and always, maintain your distance from shorebirds. Share the Love, #ShareTheShore



Know before you go! Most beaches in NY don't actually allow dogs and even small, well-behaved dogs can scare beach-nesting birds and migrating shorebirds. Pet owners, help set the example for how to "Share the Love, #ShareTheShore"
LINKS TO SHARE
https://ny.audubon.org/10-ways-help-beach-nesting-birds
https://ny.audubon.org/conservation/protect-beach-nesting-birds
"Be a Good Egg" pledge: http://ny.audubon.org/bge
eNews signup: http://ny.audubon.org/signup
Click here to make a donation in support of Audubon New York's work protecting birds and the places they need: http://ny.audubon.org/donate
IMAGES TO SHARE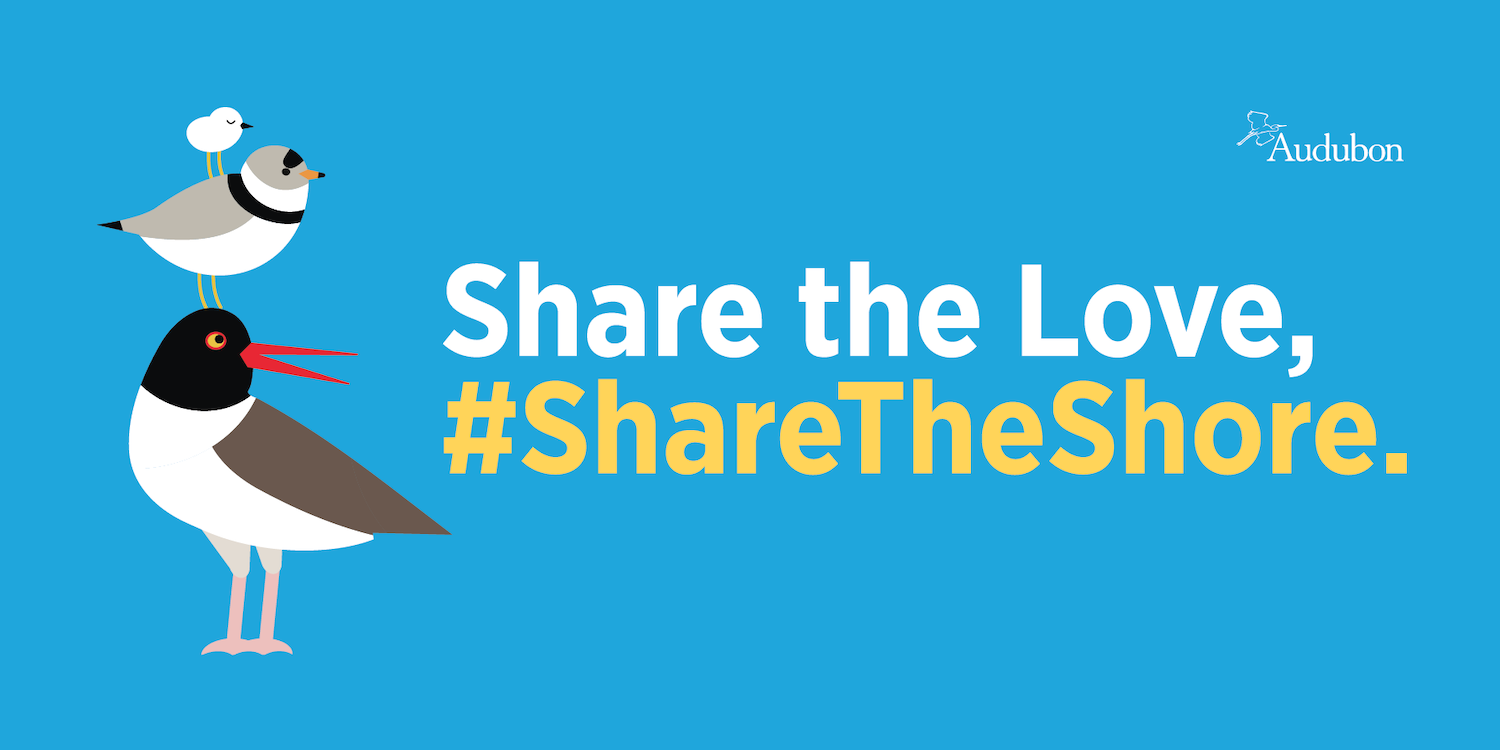 LETTER TO THE EDITOR TEMPLATES
If you would like to "level up" your efforts and go beyond sharing the love on social media—send it to your local newspaper in the form of a letter to the editor!
Click here to see sample letters of varying length that you can use as a template to get started. NOTE: keep in mind, most media outlets prefer letters to be 200-300 words max. Check their website before you write!
VIDEOS TO SHARE
GREAT EXAMPLES
Donate to Audubon
Help secure the future for birds at risk from climate change, habitat loss and other threats. Your support will power our science, education, advocacy and on-the-ground conservation efforts.