It's more than just a slogan. 'Share the Love, #ShareTheShore' is Audubon's effort to protect nesting shorebirds like Piping Plovers and American Oystercatchers, and their teeny, tiny chicks. It's our way of uniting our voices as scientists, bird-lovers, and beachgoers who are dedicated to reducing the threats posed to vulnerable species.
Birds' survival depends on our actions, on the beach and off. If we want to enjoy their fun, fuzzy presence in the future, we have to educate our friends and family today.
"I need space!"
Vactioners, boaters, photographers, and general beach-lovers all enjoy nothing more than a sunny day on the coast. But before you grab the sunscreen and head to the beach, there are some other important things to consider.
Vulnerable shorebird species travel each spring (from as far as the Bahamas!) to nest and raise their chicks on our shorelines. Despite the best efforts of Audubon staff and volunteers, these birds face immense challenges that are heightened by the presence of beachgoers.
Did you know: Beach-nesting birds need an average 100 feet of space from people and pets.
What happens if that space gets invaded? Worst case scenario: a parent is scared off the nest, exposing the eggs or chicks to potentially fatal heat or predation.
Approaching the birds or their nesting space can also cause undue stress to both the adult and chicks; this wastes precious energy that they need to forage for food.
Pets are (obviously) unable to recognize and respect this space the birds need. During this crucial nesting season (May - August), please remember: On beaches where dogs are allowed, they should always be leashed!
Images and Graphics to Share:
"Share the love" with your social media followers and encourage others to #ShareTheShore this beach season!
Click here to download a selection of shorebird photos and graphics for use.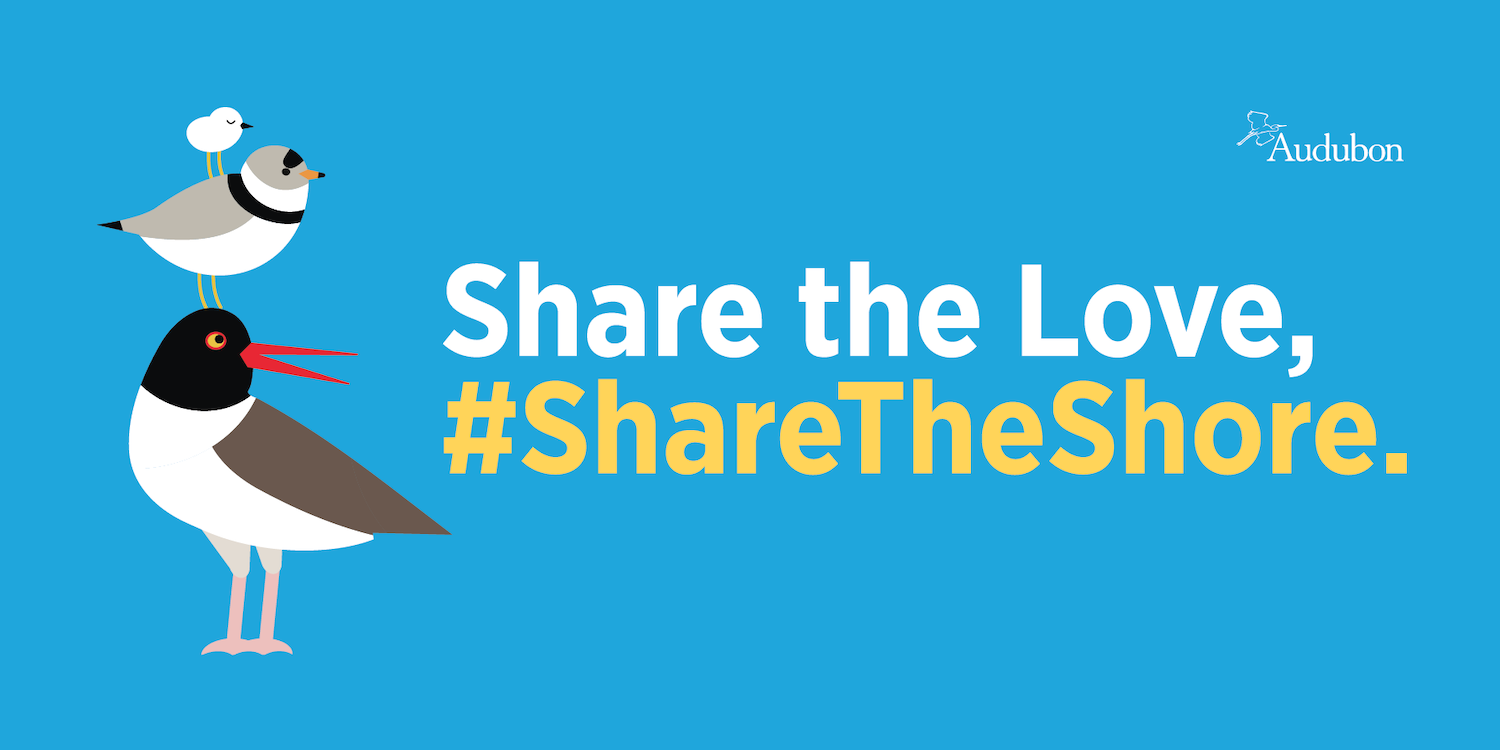 Extra Extra! Template for Writing a Leter to the Editor:
If you would like to "level up" your efforts and go beyond sharing the love on social media—send it to your local newspaper in the form of a letter to the editor!
Click here to see sample letters of varying length that you can use as a template to get started. NOTE: keep in mind, most media outlets prefer letters to be 200-300 words max. Check their website before you write!
Examples of Sharing the Love:
Donate to Audubon
Help secure the future for birds at risk from climate change, habitat loss and other threats. Your support will power our science, education, advocacy and on-the-ground conservation efforts.