Montezuma Audubon Center
Montezuma Audubon Center Programs and Events
Please scroll to view all of our events and programs. We offer public programming year-round that includes, but is not limited to: guided birding tours, guided hikes, guided canoe, and kayak paddles, guest speakers, workshops, virtual presentations, and more!
On The Canals Snowshoeing Excursions
When the snow begins to fall, the fun starts to heat up at Montezuma Audubon Center! Join us for a leisurely 1-mile snowshoe hike around the marshes, among the grasslands, and through the forests while learning about the many birds that are found here during the winter months such as the Bald Eagle, Northern Harrier and Dark-eyed Junco. Additionally, we'll explore the winter carpet of freshly fallen snow which captures the story of hardy mammals like the coyote, mink, red fox, and muskrat. Excursions will proceed with or without snow.
These snowshoeing excursions are funded by the New York State Canal Corporation.
Program Fee: FREE

Suitable for ages 5 and up

Space is limited and registration is required

Snowshoes, binoculars and bird guides will be provided

Meet at Montezuma Audubon Center (2295 State Route 89, Savannah, NY). For a prompt departure, please arrive 15 minutes early to use the restroom and check-in.
Call 315-365-3588 or email montezuma@audubon.org  with questions.
To register for a snowshoeing excursion, please click the date and time you wish to attend and you will be redirected to the registration page.
January 7 @ 10AM January 7 @ 1PM
January 14 @ 10AM January 14 @ 1PM
January 21 @ 10AM FULL January 21 @ 1PM FULL
January 28 @ 10AM FULL January 28 @ 1PM FULL
February 4 @ 10AM FULL *Canceled due to wind chill advisory* February 4 @ 1PM FULL *Canceled due to wind chill advisory*
February 11 @ 10AM FULL February 11 @ 1PM FULL
February 18 @ 10AM FULL February 18 @ 1PM FULL
February 25 @ 10AM February 25 @ 1PM FULL
____________________________________________________________________________________________________________________________
Onondaga Lake Birding Excursion Sunday, February 5 @ 10AM
Join the Onondaga Lake Conservation Corps for a 2 hour, 1.5 mile walk along the Onondaga Lake West Shore Trail to explore newly restored habitats that attract thousands of waterfowl, dozens of Bald Eagles, and other wildlife during the winter months. If there is enough snow on the ground, snowshoes will be provided to all participants. Participants will learn from Audubon New York, Montezuma Audubon Center, and Onondaga Audubon staff and volunteers about wildlife and the importance of wetlands in supporting the Onondaga Lake watershed. The walk will be on a flat trail that may be snow covered. Binoculars and field guides will be provided.
Onondaga Lake is an Audubon Important Bird Area that provides habitat, food and water sources that many bird species depend upon for survival during the cold winter months. Some of the most abundant bird species that rely on Onondaga Lake are the Bald Eagle, Common Merganser, American Black Duck, Greater Scaup, Lesser Scaup, Common Goldeneye, Bufflehead, Hooded Merganser, Mallard, Redhead, and Ring-necked Duck.
Space is limited and registration is required. Fee: $5/child, $10/adult. Meet at the Long Branch Road Parking Lot, 392 Long Branch Rd, Syracuse, NY 13209
Space is limited and registration is required. Registration is available at https://act.audubon.org/a/onondaga-lake-conservation-corps-birding-excursion-sunday-february-5-10am.
Call 315.365.3588 or email montezuma@audubon.org with questions.

Public Program Cancellation/Reimbursement Policy:
If the Montezuma Audubon Center (MAC) cancels an event for any reason, we will initiate a full reimbursement to your original method of payment.
If you need to cancel your registration for an event, please call or email the MAC at 315-365-3588 or montezuma@audubon.org at your earliest convenience.
If you cancel more than seven days before the event, we will initiate a reimbursement minus a 10% administrative fee, to your original form of payment.
No reimbursements are issued for cancellations received less than a week before the date of the event.
Montezuma Audubon Center K-12 Field Trips
Designed for Kindergarten through high school students to connect with nature through minds-on and hands-on lessons and activities—inspiring children today to conserve the Earth for tomorrow.
Private Birding Tours—Reconnect with Nature at Montezuma
Enjoy a unique bird-watching tour of the 50,000-acre Montezuma Wetlands Complex! These outings are a great way to catch up with family members, close friends, or co-workers, and experience the birds, other wildlife, and habitats that make Montezuma an Audubon Important Bird Area. Choose from driving tours, birding walks, canoeing/kayaking excursions, and snowshoeing hikes. All tours are led by National Audubon Society staff and include equipment rentals, binoculars, and bird guides.
For driving tours, you will follow behind the Audubon van in your own vehicle to Montezuma's marshes, forests, and grasslands to explore several birding hotspots and the abundant wildlife as they go about their activities. Participants will receive a conference call phone number to hear the Audubon educator narrate the tour and ask questions between stops. Guests are welcome to get out of their vehicles at each stop (facial coverings required and physical distancing guidelines must be followed).
Fee: $150
Available year-round for groups of up to 10 people
To plan and reserve your customized tour, call 315-365-3588 or email montezuma@audubon.org
Testimonial
"The highlight of our visit to the Finger Lakes region was the private bird watching tour through the Montezuma Audubon Center. Since it was only my immediate family and the tour guide, it was the perfect COVID-friendly event for our vacation. The tour guide met us at the Audubon Center, lent out sanitized binoculars, and explained what type of birds we were planning to see. We then followed the Audubon Center van in our own car and were able to communicate with the tour guide using a conference line throughout the drive. We made four stops and at each stop, we had the opportunity to ask questions while bird watching. My kids, ages 5 & 8, and my parents in their late 70's enjoyed it as much as I did. We were lucky enough to see a Bald Eagle within close range and saw several circling in the distance. We also learned about waterfowl and spotted several species. My kids couldn't wait to get home and tell my husband all about their adventures of bird watching, while my parents were quick to post their bald eagle photos on social media. The tour guide had proper masking and distancing throughout the entire two and a half hour event. I highly recommend that anyone, regardless of age, consider this for their next Finger Lakes vacation." —Hadas Liebermann (Kingston, NY)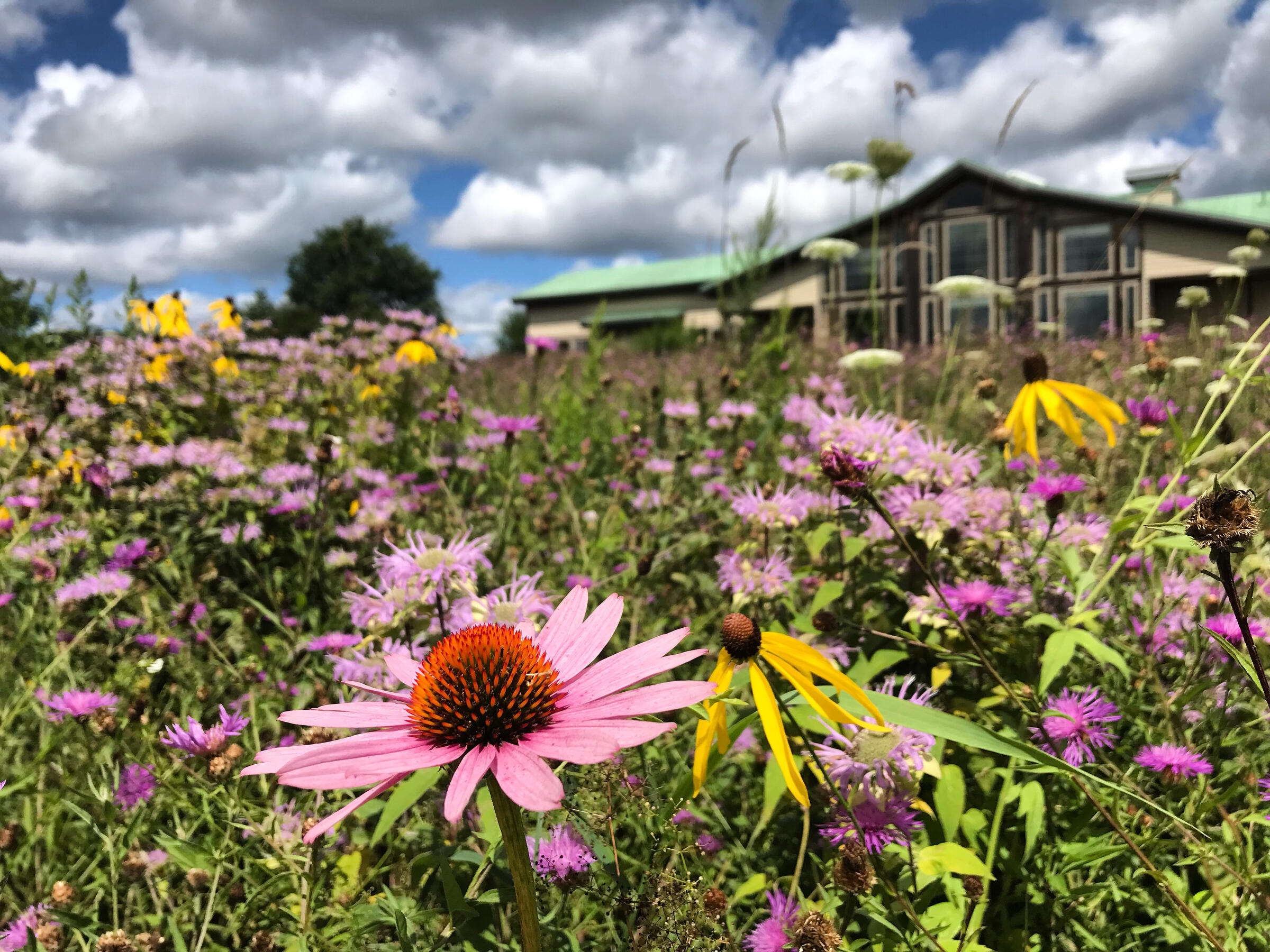 Become a Member of the Montezuma Audubon Center
You are what hope looks like to a bird. Your membership will help secure the future for birds at risk from climate change, habitat loss, and other threats. Protect birds and you protect the Earth.
Support Our Work
Help us to protect this critical habitat for the benefit of birds, other wildlife, and people. Donate to Montezuma Audubon Center today!
Plants for Birds
Draw more birds and pollinators to your yard with native plants! Get started today using the Native Plants Database.